How do Automobile Owner's benefit from using the RAR network and services?

Top quality service

Each car owner now has access to the most trusted auto repair service as indicated by the number of their RAR Stars. From a mouse click you, the automobile owner or Referring Repair Shop, can see this daily updated list of the top rated repair shops as nominated by their peers for their honesty, skills and dedicated customer service. (This is the largest, quality repair service survey we are aware of in North America). (Why is this so much better than a consumer review? ... more info).

Trustworthy service: Most vehicle owners are at the total mercy of the honesty of the Repair technician when your car is on the hoist and the repair in question is disassembled. As the mechanic points to some metal filings in an oil pan and claims that your transmission is shot and the repair is $4,000, you have to trust him that he is telling the truth.
Am I over-paying for my service? Did you know that many mechanics are on commission? That means if they can talk you into double the repairs, they make double the wages.

How much can I save from using a top repair shop?
Studies have shown that about 50% of the repair shops offer a competent quality skilled repair at a reasonable price. Our many customers suggest that their repairs can be reduced by 35-40%, but until we gather more data it is difficult to put an exact number on it. (Read the studies and how people are saving money.)
Fast Convenient Bookings and Service (June 2010 feature)

It seems everyone is in a rush today.
Today only 58% of Vancouver's repair shops answer the phone during working hours and often your voice messages are not returned in a timely manner. With our RAR quick "Shop Connector" we are now giving you fast booking service 24/7.(find your shop now)
Book an appointment on-line: (Live Feature)
Request an appointment on-line right now, log in with your RAR card ID or your email, pick a shop for your repair and then the shop instantly receives your requested appointment. You should receive appointment confirmation within 30 mins. You can also request a service with our 24 hour toll free service at 1-888-539-4662 ext 1 (find your shop now)
*As an extra service, we call any shops not responding within 20 mins.

Indicating Instant available appointment space. *Optional Service
How it works: Each shop indicates available shop time at the beginning of the day so you can instantly confirm your appointment on line or with our 1-888-539-4662, 24 hour support call. (Service available from July 1, 2010)
case study: Most Canadian Tire auto repairs get little to no nominations for quality service in RAR surveyed cities .
Yet there can be one busy network of repair shops because many car owners will choose fast convenient drop in service over a higher quality service. Time is money.

"RARA" Recommended Auto Repairs Alerts (Maintenance reminders) (June 2010 feature)

Studies have shown that most brake repairs done today are actually emergency repairs. This means that most car owners leave the brake repair until the pads have completely worn out, and the vehicle is unsafe. This approach usually trashes the rotors and that means an excessive repair bill. But it's not just brakes; there are a lot of things that can break down, which you can prevent, with a preventative maintenance program...if only you could remember?
Our #1 car owner feature request is : "to be reminded to repair my brakes before it is too late!"
So just how much can you save with "RARA" Recommended Auto Repairs Alerts?(April 2010 feature)
The following chart is an example of how expensive delayed auto repairs can be when your vehicle function or part fails.
With RARA's Maintenance Alerts you can be notified of future repairs needed via email or text message, so you don't forget.
Repair
Maintenance
Maintenance date
Check period
Potential damage
Seized engine
Change oil
5,000 km
(~3mnths)
$4,000
Transmission failure
Flush oil
~70,000 km
(~ 3-24 mnths)
$4,000
Tire damage
Check alignment
5,000 km
( 3 mnths)
$200-800
Cracked window shield
Check and fix rock chips
As it happens
$200-500
Crisis brake repairs
Repair brakes before damage is done to the rotors and calipers.
30,000-80,000 km depending on your driving habits
Every 3 mnths for normal drivers, or as technician recommends
$200-$800
Radiator repair
Check the radiator function, fluid levels and freezing level.
50,000 km depending on the radiator coolants
Every 3 mnths
$600
Muffler repairs
Fix holes before extensive damage
Every 5,000 km
Every 3 mnths
$400
Bad engine performance
Engine Tune ups
Every 50,000 km
Every year
$100-1000
Broken Timing Belt
Replace timing belt
As required
( 75-175,000 km)
$0-1,500

............................................

....................................................................

........................................................

.......................................

$11,300
Online Car Repair History (May 2010 feature)

Imagine being able to access all your repairs online from all the shops in one single place. If you opt for this feature, you can review this list for income tax purposes or maintenance reviews for reselling your vehicle.

Studies have shown that used car purchasers see a ~5% increase in the car value, with a complete record of past car repairs. On a $10,000 used car that would be an EXTRA $500 value.
Note: Upon the sale of your vehicle, with your approval, the new owner can take over your car maintenance records.
To take advantage of this feature you need to inform RAR and the repair shop that you want to access your repair records and then you can login to RAR and view them.

Support Your Favourite Charity with the "Easy Giving Support Program".
Easy giving means no cost to you to support a charity. When choosing a repair shop, or scheduling a repair, now you can choose a charity to support and we will donate 3% of your repair bill.

The repair shops in Referred Auto Repair Association have been chosen for trust, skill and dedicated customer service. They are also wishing to give back to the community by providing a 3% donation to the charity of the customers choice. With a projected 30% participation in the province we expect to have a 19 million dollar capacity to fund the local charities.
With over 6,900 BC organizations that have been receiving gaming support, today many of them are in need, many of our repair shops are giving support with a donation for each approved repair.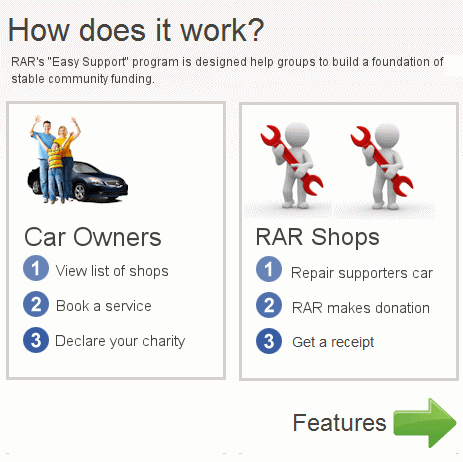 .
The total liability of $11,300 is the result of no maintenance and driving your vehicle until it stops. This expense would vary between vehicles; perhaps a timing belt or a transmission could last twice as long as recommended, depending on how hard you drive your vehicle.
Number of visits on this page: 17,547. Number of visits on this site: 9,786,075.