Easy Giving Support Program Benefits Details
At a 100% participation level a sample organization with 300 members and 1,200 active supporters, with 2 cars in each family could generate as much as $100,000 funding for per year before any real public funding campaigns were even started.


How much funding can be generated in one year?
Simply put, average car maintenance costs are about $1,200/yr.
A 3% donation of these repairs would be $36/car/yr.

•

500 members (2 cars per) = 1,000 cars = $36,000
•

1000 supporters (2 cars per) = 2,000 cars = $72,000
Before any fund raising campaigns you could earn $108,000

A fund raising campaign can be planned to generate all the funds you need.

Note: We will be supporting about 10% of the charities in each community so
over a short time many supporters will be asked to support more than one charity at a time.
They will only be able to support
one
charity at a time.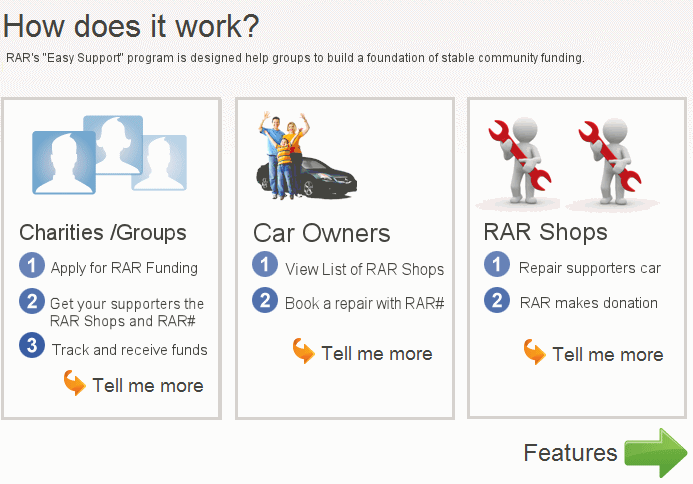 How can you expand your supporter base through advocacy marketing?
With newsletters that show the community involvement and the success stories you continue to build stronger relationship between your group and the supporters.
By building better relationships between and it's email enabled supporters you can now ask them to tell and show 5 friends what you do.
As a Charity or a Non-Profit organization, how do you raise funds today with the current and future government cutbacks and reduced giving. With over 6,800 BC organizations in need we can help you in raising funds.
The 3 million+ vehicles in B.C. will spend about 3.6 billion in automotive repairs this year. We as the Referred Auto Repair Association Shops that have been chosen for trust, skill and dedicated client service are also wishing to give back to the community by providing a 3% donation to the charity of the customers choice. With a projected 30% participation in the province, we expect to have a 19 million dollar capacity to fund the local charities.
We can not fund all 6,000 plus charities needing funding but we wish to support a broad spectrum of non-profits and charities in each community we represent. We expect to cover 85% of the BC population by June 2010. full details
Number of visits on this page: 10,045. Number of visits on this site: 9,867,972.